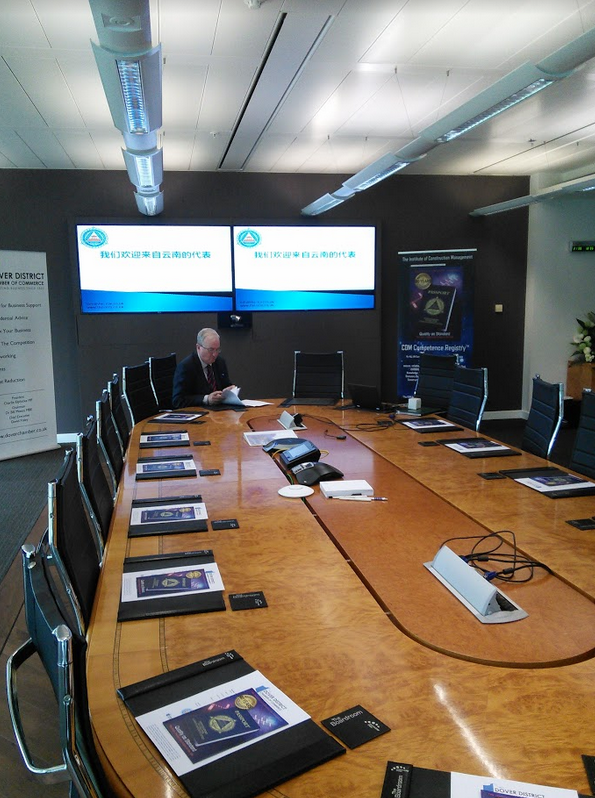 The Yunnan Design Institute Delegation Visit The Institute of Construction Management
Looking to the future -
Ready, and all systems go! ... a final study of the preparations and quiet focus on exemplary perfection! ...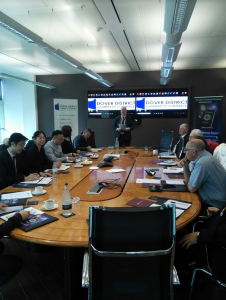 David Foley, Chief Executive of Dover District Chamber of Commerce later delivered an historic warm welcoming address to our VIP Delegation from Yunnan Design Institute Group [YDI] arriving
from Yunnan Province in China to meet with The Institute of Construction Management [ICM] in the magnificent setting of the Boardroom  at Innovation House in Sandwich on Monday 14 October 2019 ... [click on the image for a transcript]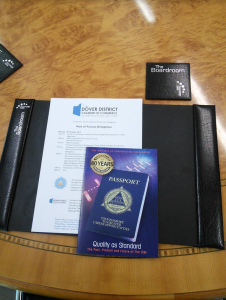 Looking to the future David Foley explained that he wishes East Kent to be the first to be working collabora
tively on construction, design and competency registration projects with The Institute of Construction Management and the Yunnan Design Institute Group ...
ICM's Director of Education and Training David Jones wishes to extend deep personal thanks and great appreciation to David Foley and his team at Dover District Chamber of Commerce and Thanet & East Kent Chamber for their great support and focus in the planning and arrangements making it possible for bringing our two Institutes together to meet in the spirit of collaboration, cooperation and communication looking to forge close linking around common pillars and vision ...
David Jones ─ "for me personally a huge proud moment that marks the point where a number of important journeys align ... "
" ─ the Delegation from Yunnan that had traveled a distance of 8,600 kms along the great circle route to be with our ICM team ... included the Dean of the Provincial Institute of Building Materials Science; the Dean the First Architectural Design and Research Institute; the Dep. Director of The Office; the Dep. Minister of Technical Quality; and official representing Engineering Investment ─ "

Yunnan Design Institute Group [YDI] founded in 1951 is one of the earliest comprehensive large-scale first class design institutes undertaking civil and industrial projects in China.   YDI has multiple levels of design qualification for engineering design, planning and design, engineering consulting, engineering survey, municipal engineering, general contracting, engineering supervision, environmental impact assessment, geological hazard risk assessment, engineering surveying and mapping, power industry, real estate development, energy conservation and environmental protection, engineering testing etc.
" ─ the ICM journey can be measured too ─ 177-years from its founding 1n 1842 ─ but that's all history, this is the future when in 2018 the ICM transformed itself fit for the 21st Century when it launched the National CDM Competence Registry™® then in 2019 commenced research and development for the creation of the CDM4BIM Gateway™ project ─ "
The ICM team comprised Director David Jones; Roy Blamey Director of Membership and V.President; Clifford Brown Past President; together with Dr. Thomas Shelley Head of Kent Inventors Forum; Dr. David Thomas Interim Head of Construction Greenwich University; Rizwana Shelley Director of Innovation Funnel CIC and Inst. of Physics; and Chris Maflin MD Cariss.
" ─ the CDM4BIM Gateway™ + Competence Registry™® is not only a bold and complex project ─ but it's a good project too ─ with achievable positive aims of improving the culture of safety and quality ─ following the post- Grenfell Hackitt Recommendations ─ I can now vision the possibility of ICM providing the means for 'Solving Hackitt' is achievable, leading to an improvement of saving lives ─ "  

says David Jones ...

The Chinese Delegation expressed keen interest and support for David Jones vision of how the ICM's CDM4BIM Gateway™ + Competence Registry™® project could be adapted and extended for suitability on
Beijing's multibillion dollar Belt and Road Initiative (BRI) ─ Chinese $1tn (£760bn!) - $8tn investment around the world ─ creating the "21st century silk road," confusingly made up of a "belt" of overland corridors and a maritime "road" of shipping lanes ─ f
rom South-east Asia to Eastern Europe and Africa, Belt and Road includes 71 countries that account for half the world's population and a quarter of global GDP.
Belt and Road also means that Chinese firms are engaging in construction work across the globe on an unparalleled scale ─ David Jones is the Project Manager of ICM's CDM4BIM Gateway™ + Competence Registry™® project ─
having proven skills, knowledge, experience, and cultural attitude with a deep understanding as a chartered UK professional in the first tranche of 200 pros at the very start of CDM in the UK.  David believes by drawing upon the legacy of the construction safety system created for the London 2012 Olympics by supremo Lawrence Waterman and, embodying that logic into the Gateway™ will hope to roll out safety culture across the whole global BRI framework!

" ─ now that really is a bold project! "  
says David Jones ...

The meeting went extremely well and the Chinese Delegation were pleased ─ ICM will report eventual outcomes ─ to mark the occasion at the close, the Chinese guests presented our ICM Team with unique hand-made crafts from Yunnan ... the ICM awarded each of the Delegates Honorary Membership as all were highly qualified within the academic system of China too.  The award was handed to each by ICM V.President Roy Blamey ...
Ed.