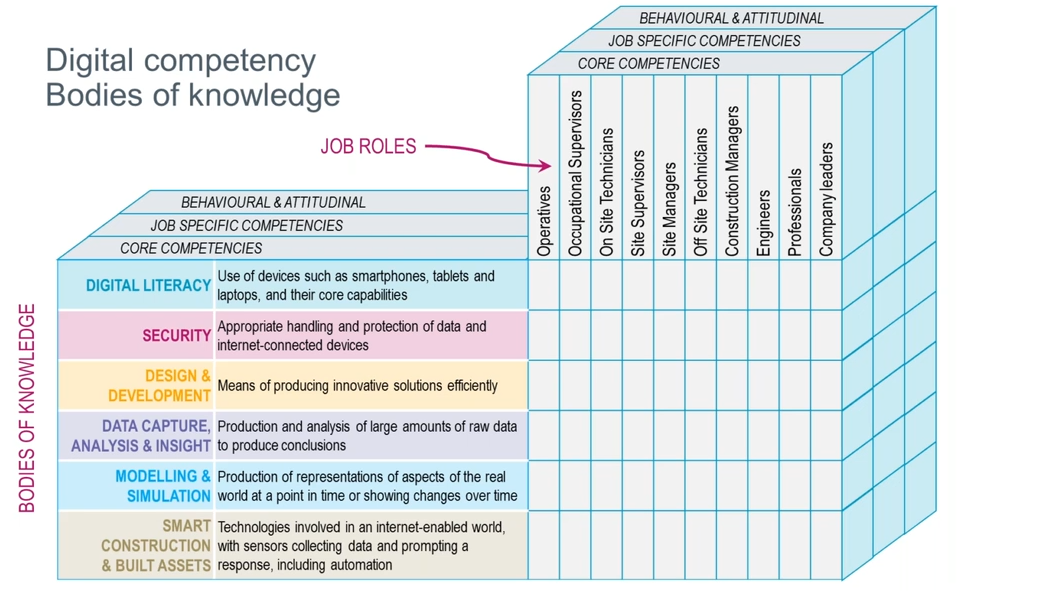 Digital Competencies Framework ─ ICM works ─ Unlocking Construction's Digital Future
As part of CITB's drive to strengthen its evidence base and equip the UK construction sector with the skills it needs and to be able to establish and prove competence the ICM is assisting the CITB on a project to create a new and functionally exciting Digital Competencies Framework [DCF] ...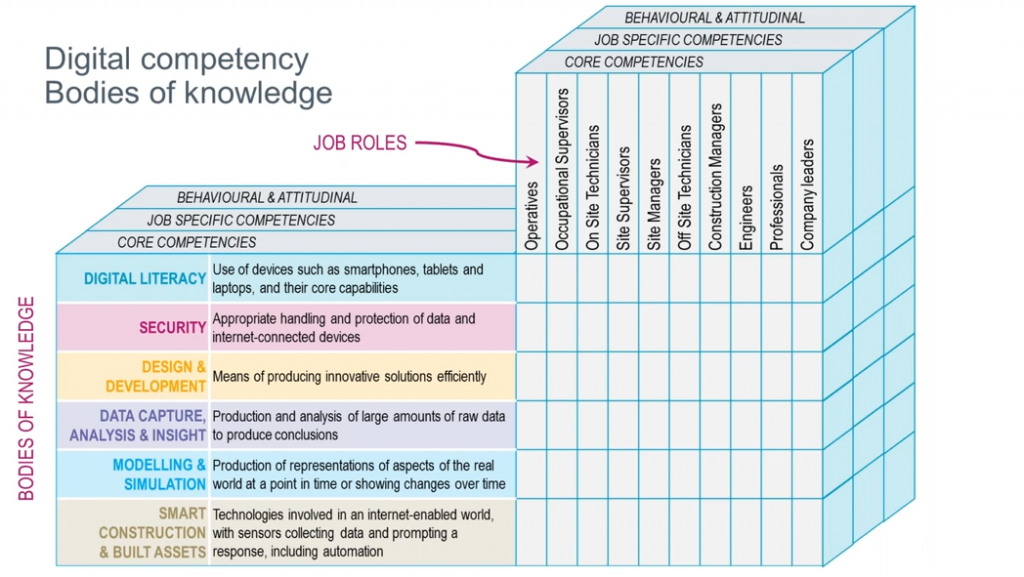 all roles
all levels
all knowledge
multi layered competencies:

behavioural & attitudinal
job specific
core

providing measurable metrics
for individual / team benchmarking
The CDM4BIM Gateway™
A cutting edge digital platform is being created by the IT team at the ICM Academy to provide all the construction sector and its statutory dutyholders with immutable trust of competence and the means to prove competent professionals ...
It is vital to safety to ensure any individual and/or organisation has the necessary appropriate skills, knowledge, experience and ability commensurate to undertake whatever duty they may be tasked to undertake and appointed to perform ...

... it is also vital for all commissioning Clients who seek to appoint anyone or any organisation to undertake some construction operation to ensure whoever they chose to appoint are competent and able to carry out the work safely ...
The ICM launched the National CDM Competence Registry™® in 2018 to provide the means to profile all professionals and maintain a robust reliable trademark protected register of assessed criteria of competence for any construction operation, design function, or the management of projects ─ the immutable provenance of the register is independently quality controlled by a Registrar and third-party audit and certification to ISO9001 standards ... underlying smart Web 3.0 technology will operate with distributed ledger databases networked across professional bodies to ensure that consensus, provenance, immutability, and single source of truth is beyond any doubt ... commissioning clients will know those they appoint will have the abilities to perform to expectations ...

ICM's Director of Education & Training David Jones has been involved with driving the culture of construction safety with the Construction (Design and Management) Regulations [CDM] from the very start since first enactment of the EU Directive 92/57/eec into UK law in 1994 ... although the CDM Regs have gone through a number of changes, iterations, and re-enactments, the EU Directive has never altered ... David has extensive in-depth hands-on work experience in all the statutory roles of CDM over the full span of the legislation from Planning Supervisor through CDM-Cordinator to Principal Designer both as a practitioner and also as team manager; with a previous local authority online platform won Constructing Excellence award in 2007; nominated by HSE in 2008 one of only three Health & safety Champion of The Year across the UK; prior to CDM enactment a professional career widely based as a chartered professional member of RICS and Fellow of CIOB; the original lead author appointed by The Carbon Trust for its 'Biomass Accelerator Guide' later adopted by CIBSE into AM15 - Applications Manual that concentrates on biomass systems with biomass boiler outputs in the range of 50 kW to 5 MW burning woodchips or wood pellets; one of only a handful of designers of

fire safe over-cladding of HRRB tower blocks

to pass the post-Grenfell BRE tests ... well rounded proven competence backed by expertise!

... Competence is the Key ─ the CDM4BIM Gateway™ opens the Digital Competencies Future ...
Graphic User Interface to make 'Digital' easy!
ICM's Director David Jones' was fortunate to be in the right place at the right time and saw the light with Digital Design ─ when David joined the practice of architect John Gill AA he was their only surveyor which, for some, would be somewhat challenging; for David it was opportunity! ... it was there David first 'had a go' on RUCAPS the worlds very first CAD
system developed by two graduates of Liverpool University, Dr John Davison and John Watts in the early 1970s who fortunately took their work to

architects Gollins Melvin Ward

(GMW Architects) in London in the late 1970s, and developed it whilst working on a project for Riyadh University. It became the Really Universal Computer Aided Production System (RUCAPS), and from 1977 was sold through GMW Computers Ltd in several countries worldwide ─ David would eventually move to work at GMW Partnership to design engineer the complex façades and glazing on iconic buildings such as the Barclays Bank HQ in Lombard Street ─ RUCAPS had by then developed into the sophisticated Sonata CAD system ...

... the term 'building model' (in the sense of BIM as used today) was first used in papers in the mid-1980s: in a 1985 paper by Simon Ruffle, and later in a 1986 paper by Robert Aish - then also at GMW Computers where David was working away - referring to the software's use at London's Heathrow Airport ─ sowing the seeds of what was to come in David's driven career ...
David's later pioneering work on CDM linked to his practical working understanding of computer aided design [CAD] created a unique depth of knowledge to realise there exists a serious gap between the function of those who are tasked to manage property and construction risk and those who design the buildings ─
designers will never voluntarily admit to creating risks and health & safety professionals largely lack design skills ─ thus the real risk metrics of identified hazards will rarely find their way across 'the gap' to be embedded in a way that alerts designers and facilities managers to potential but unknown harms! ─ the seeding concept of an easy way for all the team to come together in common purpose ...
... starts with getting a Digital Key to the Gateway™ and a Passport to Unlocking Construction's Digital Safe Future ─ David Jones says "in the post-Grenfell world, the sector must raise the gate and be competent to improve safety" ...

The National CDM Competence Registry™® is fully protected under Trademark UK00003314886 - all rights are reserved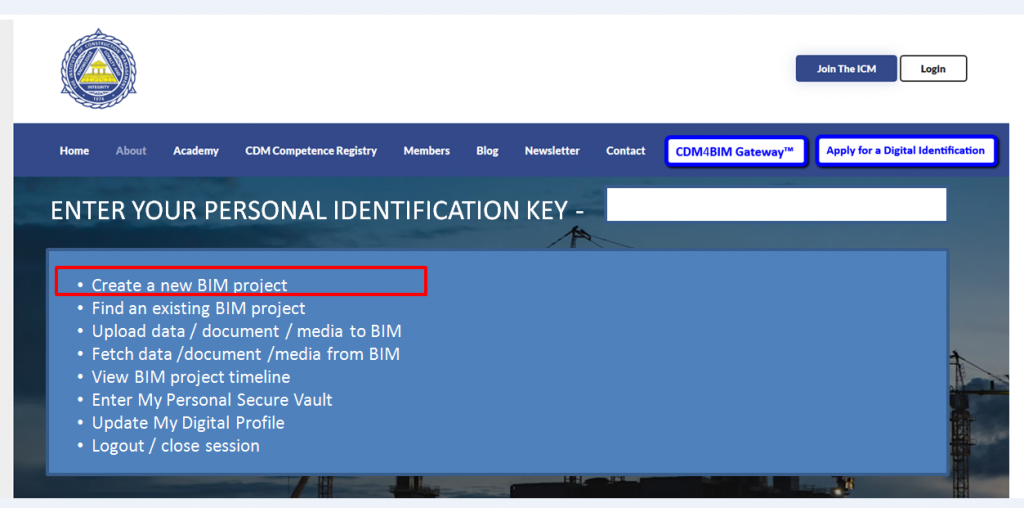 ► part of ICM 2020 development plan
► cross sector consensus DLT platform
► immutable records held secure
► provenance beyond doubt
► single source truth ─ eliminates bogus fraud
► assured competent professionals
► secure CDM document vault
► for Clients, Designers, Managers, Contractors,
► for FM, Fire & Safety RP
► secure links to trusted 'tools' and other services
Why improve your digital skills?
Digital skills are valuable and sought after for all kinds of jobs.
We know lockdown has made life difficult for many of us, but if you can find the time, why not grab this excellent opportunity to build up your existing skill set and discover new talents ─ "here's an excellent way that will certainly set you up nicely for when my team at ICM and the CITB led skills plan for industry really kicks in"  says David Jones ...

... if you already are using any level of digital skills in the field of
Building Information Modelling [BIM] ─ a very broad term that describes the process of creating and managing a digital model of a building or other facility ─ you could

APPLY HERE

to have your BIM level assessed and certified on the National CDM Competence Registry™®

UK Government Construction Strategy requires fully collaborative 3D BIM (with all project and asset information, documentation and data being electronic) as a minimum requirement for level 2 BIM on all centrally-procured public projects.
Using lockdown time to get your professional profile and support information onto the National CDM Competence Registry™® is a great way to get ahead of the game and have your smart information ready when you need to apply for your Digital Key to the CDM4BIM Gateway™
The processes necessary to achieve Level 2 BIM are:
PAS 1192-2 Specification for information management for the capital/delivery stage for construction projects using Building Information Modeling. (now replaced by BS EN ISO 19650)

PAS 1192-3 Specification for information management for the operational phase of construction projects using building information modelling
The Skills Toolkit
is a set of Free digital and numeracy courses to help build your skills ...
The
Department for Education
has launched a new online platform giving people, including those on furlough leave, access to free, high quality digital and numeracy courses to help people build up their skills, progress in work and boost their job prospects. The Skills Toolkit online course content has been developed by the
University of Leeds
, the
Institute of Coding
,
Google Digital Garage
and
The Open University
.
Search HERE for FREE courses to help you learn new skills or change jobs. Including general skills that apply to all sectors and more specialised skills.
Ed. [March 2021]
June 2020:
Annual BIM survey: Poor digital skills hold back adoption:
The fifth annual Construction Manager BIM survey, in conjunction with BIM+, shows a mixed picture of a sector still not wholly at ease with digital technology. The adoption of BIM shows little sign of accelerating, but the use of technologies that enable remote working, such as VR, teleconferencing and drones, is on the rise.
In this year's survey of almost 300 construction professionals, over half of respondents say they hardly ever make use of BIM on their projects, with the results highlighting a lack of digital skills holding uptake back. One in five, however, are using it regularly. And there is a strong indication that the impact of coronavirus and working patterns would drive uptake going forward, though this would mean finding more money for investment – currently another key barrier.
Digital technologies have not been embraced at pace across the sector according to 45% of respondents, with only 3% saying construction is 'going digital' rapidly (scoring five on a scale of 1-5). Nearly four in 10 estimate the pace of digital uptake as moderate, scoring it 3.
Architects have been the most enthusiastic in finding BIM beneficial: nearly 60% say they have found it very helpful/helpful on projects in which they were involved with the design.
CITB, Digital Competencies Framewark, free digital skills courses, learning in digital skills, National Careers Service, The Skills Toolkit