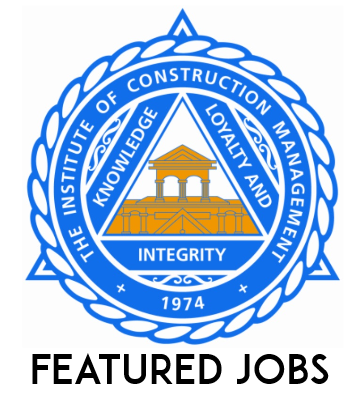 Featured Quality Job Opportunities …
At The Institute of Construction Management [ICM] we continue to develop our Building Excellence strategy ... we use our Blog to feature particular roles to assist the community we serve to recruit in support of that vision ...
The ICM website is state-of-the-art and constantly evolving into the needs of the sector ... although not expressly intending to operate as a recruitment agency The ICM understands if the sector gets the right people in the right jobs it follows that the right information will more likely get to the right people at the right time!
If you are a Local Authority, Public Services Organisation, or a Registered Charity employer operating in Property and/or the Construction Sector or have a particular interest in recruiting someone suitable for a post [temporary / permanent / interim / staff / consultant] The ICM are happy to assist ...
Just use our Contact Us link to send us an initial email and we'll get back to you to get the details to display as a Featured Job ...
The ICM does not make any charge to
Local Authorities, Public Services Organisations, or Registered Charities
to advertise Featured Jobs but when a successful person is found, the employing authority organisation will be offered to become part of the Competent Construction Community to add its support, sponsorship and endorsement to the successful person to bring them into registration on the ICM CDM Competence Registry™
Please note that the ICM Blog also contains other content and the Editorial Team will do all it can to assist to provide display space for Featured Jobs in the current configuration on the website ... if this free service becomes popular to our community organisations over time, and more space is needed to display many Featured Jobs, the IT Team will consider setting up a searchable Jobs section on the website and may consider accepting job feeds from recruiting organisations for which charges will be due.
The Editorial Team at The ICM are always looking to work with suitable organisations to develop articles of general interest to display on the ICM Blog and it will be possible to include any Featured Jobs inside those articles ... often a good way to discuss issues and explain some of the detail around the Featured Job and explain about the duties and interesting parts of the employing organisation and its location ... also, why not think about a short video or presentation? ~ the online course building experts in The ICM Education & Training Team can help you achieve that - some are award winners [Constructing Excellence 2007 : London & South-East + National CDM Award ... HSE nominee for H&S Champion of the Year 2008] ... 
Ed.