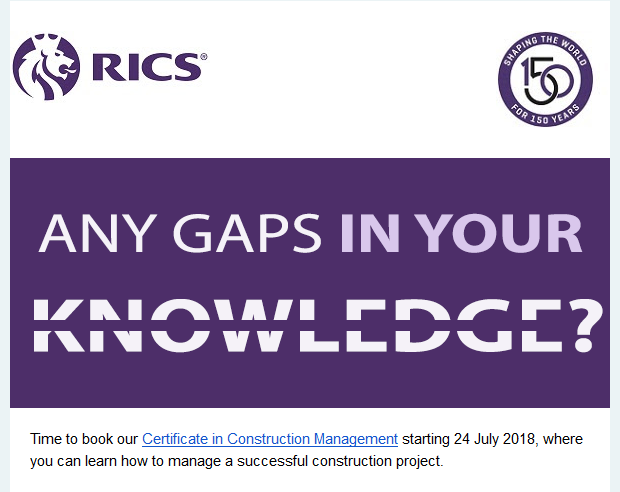 RICS – Certificate in Construction Project Management
As a project manager, you will be responsible for managing the construction project lifecycle from start to finish. This means managing the development process from initially working with clients on their requirements, through the design, procurement and construction stages, to the final handover. Competency in this area will enhance your skill set as a construction professional and ability to ensure successful project completion.
Through this course, you will delve into each stage and the critical steps within each. This includes how to plan, organise and control construction operations, and the undertaking of initial feasibility studies through to design, construction, maintenance, refurbishment and demolition. All content is designed to give you a well-rounded view of construction project management and the essential skills required for managing a construction project.
By completing all modules, you will have demonstrated knowledge of the core elements of construction project management and be able to apply key skills to co-ordinate building projects. The technical content is also aligned with the core competencies under the RICS project management pathway, and so will enhance your ability to become an RICS professional.
Unit 1 – The legal framework for construction projects
Unit 2 – Construction technology and environmental services
Unit 3 – Understanding the Client's requirements
Unit 4 – Feasibility Studies and Option Appraisals
Unit 5 – Project process and procedures
Unit 6 – BIM
Unit 7 – Procurement and tendering
Unit 8 – Team working, Management and Leadership Skills
Unit 9 – Risk management
Unit 10 – Project Finances and their management
Unit 11 – Contract practice and administration
Unit 12 – Project audit and evaluation
This RICS course is suitable for any construction professional, who are looking to develop their foundation skills to an advanced level. It is recommended if considering this course that you have approx 2 years project management experience in construction or have attended the foundation course in Quantity Surveying.
Successful completion of this course plus successfully completing the ICM Online Module on CDM Knowledge will provide construction professionals with proof to apply to the ICM CDM Registrar for inclusion on the ICM CDM Competence Registry™
https://academy.rics.org/distance-learning/project-management/certificate-construction-project-management?utm_source=solus%203&utm_medium=email&utm_campaign=CCPM