COVID-19 and Construction Sites …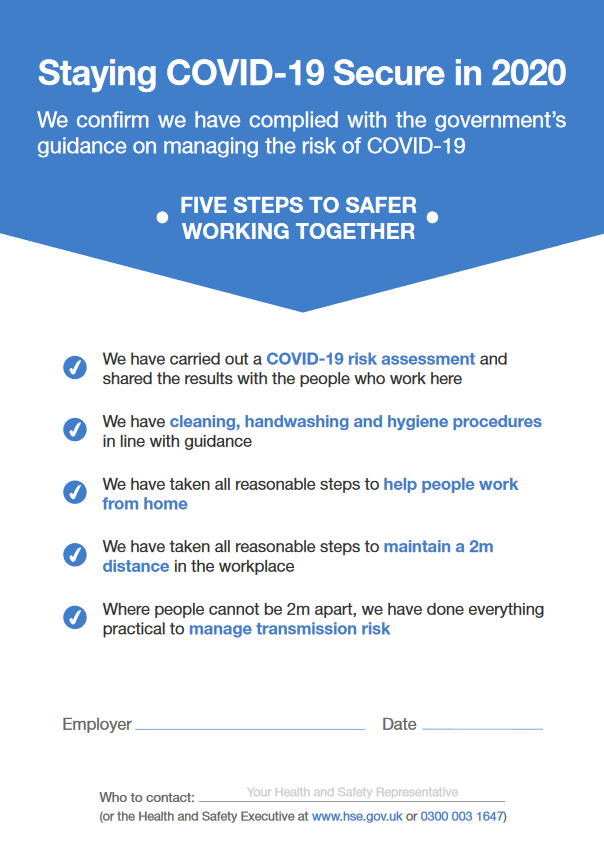 welcome to 'New Normal' folks!
Staying COVID-19 Secure in 2020 [v.4 18/05/20]

New Guidance [v.4 18/05/20] issued by Government ─ and Site Poster to display ...
Guidance on working face-to-face for no more than 15 minutes has been removed from new site-operating procedures.
The fourth version of advice from the Construction Leadership Council (CLC) document issued to advise the industry on how to protect their workforces and minimise the spread of coronavirus has been published 18 May 2020

has removed advice from previous guidance that face-to-face tasks should last no longer than 15 minutes "where possible" ─ Instead, it said, where social distancing of two metres cannot be applied, the time spent doing such tasks should be minimised, and workers should perform tasks side-by-side rather than head on.
The new operating procedures also say one-way systems at entrances and exits must be introduced, rather than considered, and make it clear that risk assessments should be shared with the workforce.
An interactive checklist, designed to be used to ensure compliance with current guidance on protecting your workforce on site during the COVID-19 pandemic. The checklist can be amended with additional comments to ensure it aligns with specific site policies. The checklist will help organisations to establish whether crucial health and safety principles are embedded in their day-to-day operations during the pandemic.
A guide offering example control measures for those required to undertake risk assessment of the workplace and specific activities on site. An interactive risk assessment template is also included in order to facilitate this process.
Designed to be delivered to construction workers by their manager or supervisor. Good communication is essential for health and safety management on construction sites. It is vitally important that contractors, managers and supervisors engage and consult with workers, as it is an effective way of identifying hazards and controlling risks.
An interactive checklist, designed to ensure on-going compliance with both established and additional procedures.
The CITB has also released a complete library of 98 interactive checklists and forms from their GE700 Construction Site Safety publication for free download.
The comprehensive range of checklists and forms are designed to help with the day-to-day management of construction sites   ↓
What do we mean by 'construction and other outdoor work'?
Working outdoors includes many people in construction,energy and utilities, farming and agriculture (including seasonal labour), forestry,waste management, other infrastructure, railway services and street and highway services
This document sets out guidance on how to work safely. It gives practical considerations of how this can be applied in the workplace.
Each business will need to translate this into the specific actions it needs to take, depending on the nature of their business,including the size and type of business, how it is organised, operated, managed and regulated.
This guidance does not supersede any legal obligations relating to health and safety, employment or equalities and it is important that as a business or an employer you continue to comply with your existing obligations, including those relating to individuals with protected characteristics. It contains non-statutory guidance to take into account when complying with these existing obligations. When considering how to apply this guidance, take into account agency workers, contractors and other people, as well as your employees.
To help you decide which actions to take, you need to carryout an appropriate COVID-19 risk assessment, just as youwould for other health and safety related hazards. This risk assessment must be done in consultation with unions or workers
building site, construction, construction (design and management) regulations, construction management, covid, covid-19, pandemic, site safety, virus