Although true to those original objectives when, on a chilly February day in 1842 our first founders -included 12 Clerk of Works, 10 carpenters, and 2 operative masons- came together in association at a property in Conduit Street ─
Our earliest members were from those busy London sites working in competent harmony creating and maintaining the complexity of fine property ... and, today, I'm proud our membership is made up of professionals from a wide diverse construction and property sector across the UK and some from overseas territories ... we operate as a registered member led charity with an open door policy in the new emerging digital world ...
... on December 19th 1934 a meeting of the Board of Directors was held in the then New Building HQ of the Royal Institute of British Architects at 66 Portland Place, London, W1. The Directors minute book dates from 1934 and the last entry within that book was the quarterly meeting of the London Chapter of the Institute for Construction Management held at the RIBA on the 17th December 1986 and the minutes were recorded by a Mr. C.J. Sinfield – then Secretary, who still remains one of our long serving members, elected a Fellow and served as Director of Finance for many years ...

... over the last few years I have been involved with the CDM Regulations and Health and Safety Management on numerous construction sites ─ the last 2 years concerned with the effects the global pandemic Covid-19 has had on the Construction Industry and visiting many diverse sites to see how the industry Clients, management team. and whole workforce were coping with the need for compliance of the new and constantly changing restrictions and required processes being implemented throughout the Industry ...
... during my time visiting sites up and down the country and mainly within the London area I was pleased with the efforts and involvement by all construction staff, operatives, management and Clients who were keen to maintain the required standards of working procedures, cleanliness and where necessary working in team 'bubbles' to ensure the safety of our construction workers ...
... with the Governments reductions in restrictions under the changing Covid -19 re-generations hopefully the construction industry will continue to adhere to the basic best practice Golden Rules to safeguard our workforce and to continue in reducing the infection rate nationwide as we move into the endemic stage of control ...

Our unique historic Timeline is a good read and our latest Mission - Vision - Strategy plans the future journey as the voice of construction management ...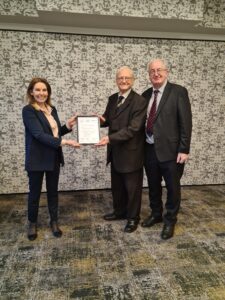 I am proud that ICM has now been admitted a full member organisation of Dover District Chamber of Commerce and Thanet and East Kent Chamber -here David Jones is being presented with our certificate by Natalie Elphicke OBE MP for Dover and David Foley CEO of the Chambers of Commerce at a recent Skills Summit ...
... our unique association with Dover Chamber of Commerce began in 2019 looking to the future with David Foley with vision wishing East Kent to be the first to be working collaboratively on construction, design and competency registration projects with The Institute of Construction Management and exciting international investment collaborations and the like ... [Read more ...]